2. January 2011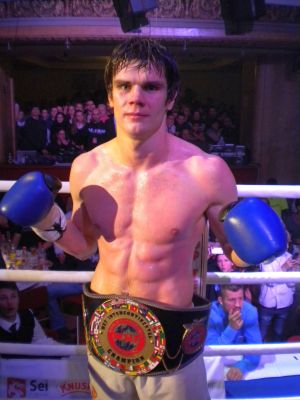 Prague, Czech Republic; the last event 2011 was from Promoter " Heroe´s Gate" Mr. Pavol MUCHA and Mr. Ladislav KUTIL in amazing old theatre in Prague.
Among other international fights was the main fight forth the vacant Intercontinental title -75 Kg in K-1 rules, supervised by Mr. Klaus Gutman.
Home town fighter Anatoli HUNANYAN challenged Belarus Champion Juri BESSMERNTNJI in front of 1.500 enthusiastic visitors in the hall. After a battle in four rounds the fight was over by TKO after 1 minute in the 5th round. New Champion belt was going to Minsk, new Champion Juri BESSMERTNIJ from Belarus.
World kickboxing federation, Alischia CZAJA, Fritz EXENBERGER, Klaus Gutmann, WKF, Kick boxing, MMA, Thai Boxing, Muay Thai, Kickboxing, W.K.F., WKF World ranking list, World champion, European champion, Intercontinental Champion, WKF European championships, WKF head office, Extreme striking