17. July 2012
Because of many requests and to help our promoters for low budget shows WKF head office has create two new Champion titles.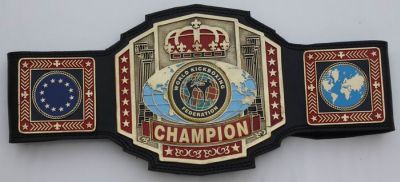 EUROPEAN UNION CHAMPION for members of the EU only, and for the commonwealth title, South pacific area title, Arabic Champion title and so on.The new created Champion belt is really heavy and looks nice.
INTERNATIONAL CHAMPION is now the first official international WKF title with an amazing heavy, golden belt.
The fees are not just cheap but excellent value for money.
All fees on request, you will be surprised. Don´t hesitate to send your request to our head office by mail. Our official belts in the gallery