21. March 2012
The big deal is done !!!
on the last day of the World Championships in Varazdin we have two World title fights.
Croatian hero Mario AGATIC challenge the current USA WKF Champion for Superwelterweight -69.5 Kg / 153 lbs World title belt.
And Ukraine beauty Olena OVCHYNNIKOVA from Union Gym Lviv challenge US top lady Tiffany VAN SOEST from San Diego Black House team Nogueira IN FULL MUAY THAI rules – 56,40 Kg.
They fought already in Las Vegas and Olena has to stop the fight because of an injury.
Now – time for the re-match, when east meets west

Everybody knows Olena, "the beauty from the east" , and Tiffany is for sure the best female fighter on west coast in Los Angeles and Las Vegas, but not yet well known in Europe.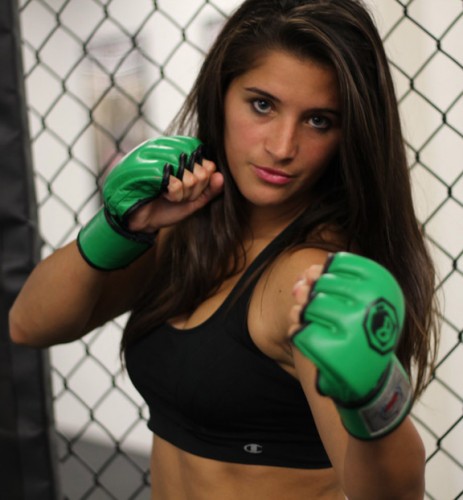 read here more about sexy Tiffany :
Tiffany VAN SOEST began her martial arts career at the tender age of 8 with the United States Karate Organization in Riverside, CA. Showing strong commitment and resolve in her training, she achieved the rank of Nidan, 2nd degree Black Belt, by 17. For over 10 years Tiffany not only dedicated herself to achieving excellence in her own training, but has also played an important role in the growth and development of hundreds of students as an instructor.
After achieving her personal goals of winning consecutive USKA State, National, and World karate titles (with some of her students doing the same), Tiffany decided to begin training in Muay Thai. Her tremendous athleticism and heart drive her to train and compete with the best. She currently is the USMTA featherweight champion of California with a record of 8-1 and is definitely looking to improve and gain more experience in the ring.
With plans of continuing on in Muay Thai and transitioning to MMA, Tiffany fights simply for the love of the sport and the competitive thrill. Outside of the gym, Tiffany is a student at Cal State San Marcos where she is earning her Bachelor's degree in Kinesiology and certifications in personal training. With the little free time left from her busy schedule, this laid back, mellow girl just likes to surf and have fun.