28. April 2012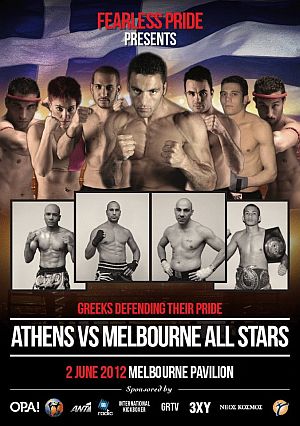 A world class Kick & Boxing event on 2nd June will be held at the luxury Melbourne Pavilion Hall.
"Athens VS Melbourne" presented by the Fearless Pride Promotions and a world title fight  in the Super Middleweight category -78 kg in Kick Boxing with K 1 rules is on !
The 4 times World champion & captain of the Hellenic team of Athens Giannis "The Psycho" Sofokleous, will face the Australian champion Eric "Diamond Cutter" Diamandstein in his home crowd.
However the Greek champion will be support by the Melbourne's massive Greek community and the Kick Boxing fans will enjoy a spectacular main event.
Giannis Sofokleous is up the present time a member of the Greek Boxing & Kick Boxing team and a 4 times world Kick Boxing champion ( WAKO PRO & WPKA). The Fireman from Kavala, have a record of 59 wins and only 5 losses. In his career Sofokleous takes wins against strong fighters, such as Cedric Anad ( France), Ramasan Beyaskaya ( Turkey), Yordan Yankov (Bulgaria), Hasan Etaki & Orlando Vitt (Holland) & Chris Johnson (New Zealand).