2. July 2012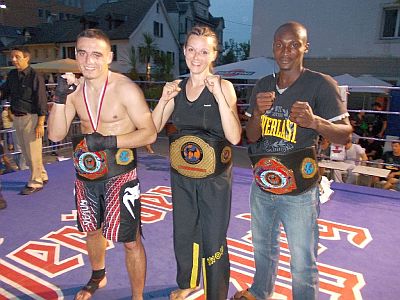 WKF Supervisor Mr. Harald FOLLADORI and his team Black Dragon Bregenz  organised once more again an event in amazing City Bregenz, sanctioned by WKF AUSTRIA.
Again with a top class fight card, with International Champions from Ghana, Venezuela, Turkey, Switzerland, Germany. Albania and of course Austria.
First title fight was for the International Austrian Champion belt – 81,40 Kg in K-1 rules, Mark KOFLER / AUT vs. Orhan ÖCAN / TUR, winner by pts. Öcan
Second title fight for the European Champion belt in PPF – Pro Point Fighting – Daniela KLOPFER/ AUT  vs. Bernadette von DÜRCKHEIM / GER, winner Klopfer.
Many photos here in the gallery.