World Kickboxing Federation archive
Category: head-office-news
9. February 2016
WKF EUROPE head office confirmed now official the next amazing WKF sanctioned World title fight.
Weight category is Light Heavyweight – 81,40Kg/179 lbs.
Long time World Champion and one of the best polish fighters ever Frenky"the flash" PAWLAK has a long and very successfully career and fought Worldwide against the best Champions.
His fight record: In 98 fights just 7 loss !!!
twice Austrian pro Champion
3 times European Champion
13 (!) times World Champion in WKA, WPKL, WFCA, GKU, WMTF, King of the ring and others.
Now he challenge another hero: Orlando "the Gladiator "WIET. This World title is called"Senior World title" and promoter Arkadiusz HULAK.
Date is May 14th, City in Poland KEDZIERZYN KOZLE. More details and super fight card is coming soon.
9. February 2016
WKF ITALY president Salvatore MATERA is the host of the next World referee meeting 2016 on February 26th .
Registration deadline February 12th! 
We got already many requests from our male / female referees and officials of 6 continents and we hope everybody who would need Visa start in time with Visa procedure.
For details about the World seminar, Visa invitations, any requests about airport transfer, Hotel booking and more contact our Italian organising team Mr. Salvatore MATERA by mail !
Our update WKF licensed referee list is here ! Many photos of our international WKF referees here ! All rule books in 4 languages and more free to down load here !
All International WKF referees, who not has attended the last seminars in Prague 2014 or Budapest 2015 must extend their license 2016 in Andria. The extended license is valid for three Years again.
Many photos from last seminar 2015 in Budapest are here in the gallery!
Next World referee seminar 2017 in May 5th-8th in Santorini, Greece, weekend before the European Championships !
Please note: without valid WKF license you are not qualified for WKF events !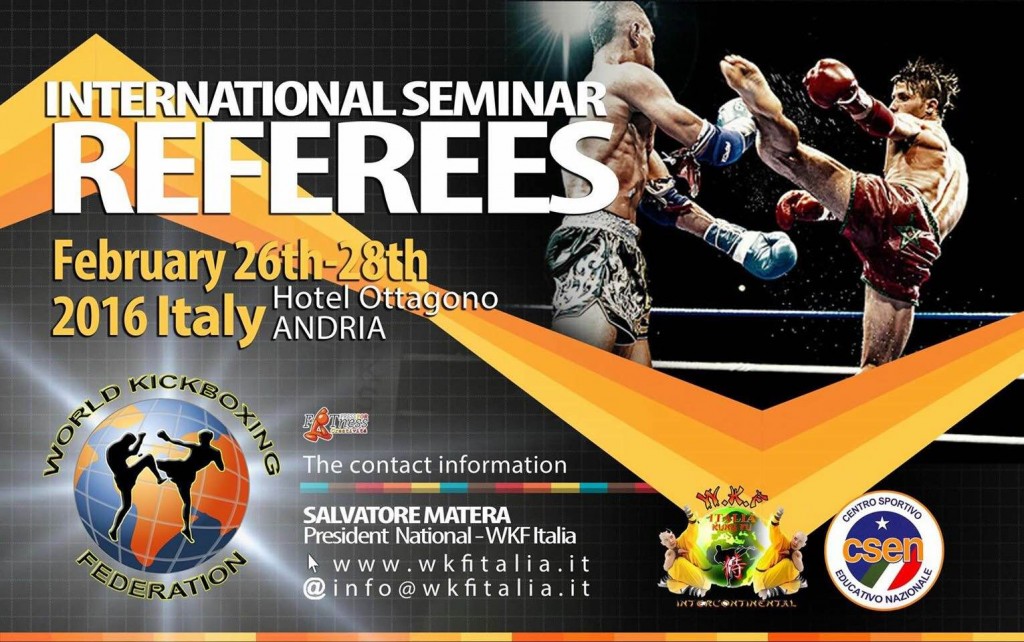 9. February 2016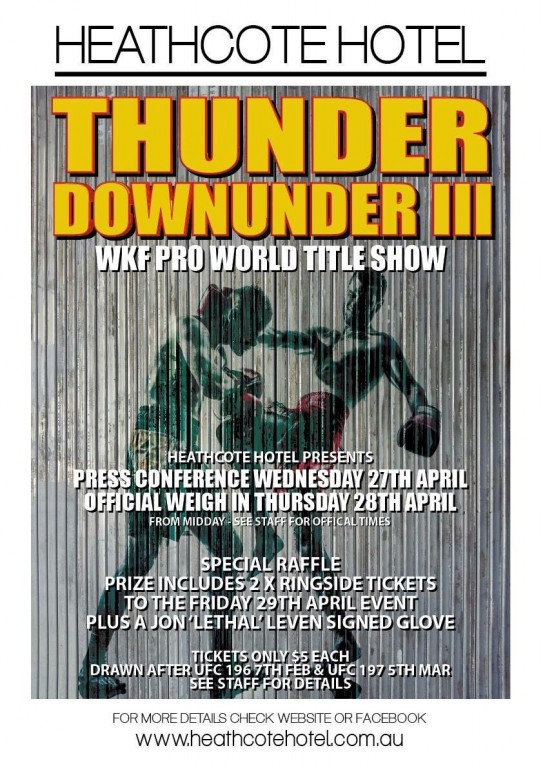 WKF AUSTRALIA & OCEANIA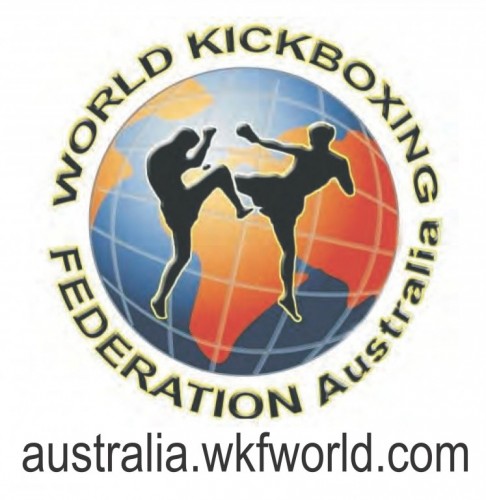 continental president Mr. Robert WILESMITH confirm the next big event in Australia.
Perhaps the biggest WKF event this Year on the World.
HEATHCOTE HOTEL (Sydney Australia) was the place to be today, for the WKF World Kickboxing/MMA World Title Show "TICKETS LAUNCH".
A large crowd gathered to witness all the Aussie Pro great fighters gather for the "Official" launch for the upcoming WKF Pro World MMA, Muaythai, K1 Kickboxing Spectacular today. 
That's to be held at CLUB PUNCHBOWL, SYDNEY on Friday 29th April 2016. Guests at today's event included Pro fighters from Sydney, Australian.
Plus Champions from Croatia, Iran, India, Georgia, Morocco, Samoa, Kenya, Uganda, Indonesia, Papua New Guinea and first time in WKF  –Samoa !
Special guest WKF ASIA president Mr. Amir MOSADEGH from Tehran.
Read more here …
6. February 2016
Our respected WKF NIGERIA president Mr. Nwobodo Ikechukwu has started January 1st our new head office to develop WKF better in West Africa. New web site is here:  http://wkfwestafrica.com/
Many new WKF NIGERIA events online in our events schedule !
WFK WEST AFRICA OBJECTIVES
Objectives
Call on the people, government and institutions to engage in the promotion of kickboxing programs
Raise awareness on benefits of kickboxing to the Youth, Women, Armed Forces and the general public
Organize seminars and workshops for schools, youth groups, military and para-military groups
Organize team competitions between states, schools, communities and the armed forces clubs
Organize national and international professional athlete programs
Organize referees and judges' seminars for training and recruiting new members
Encourage coaches and professional athlete to open training academies
Organize national title events to honour the hard work of athletes
Attend various world title events with outstanding athletes to represent Team Nigeria.
We believe that by the end of 2016 calendar year, we will be able;
To inspire up to 10 Kickboxing clubs to train world standard athletes.
To represent Nigeria on the world kickboxing federation platform. Thereby, creating a mark and our presence in the world title series.
To successfully influence a huge number of foreign outlets to pick interest in Nigerian kickboxing potentials.
To create enabling environment for Nigerian athletes to become gainfully employed through kickboxing.
To set up sustainable competitive tournaments for schools, communities, military and para-military clubs.
To set up sustainable competitive annual tournaments that will bring athletes, fans and investors from all over the world to Nigeria.
To encourage discipline and integrity in our young people.
To train a number of women in the art of self-defense, thereby, reducing the rate of rape cases in our society.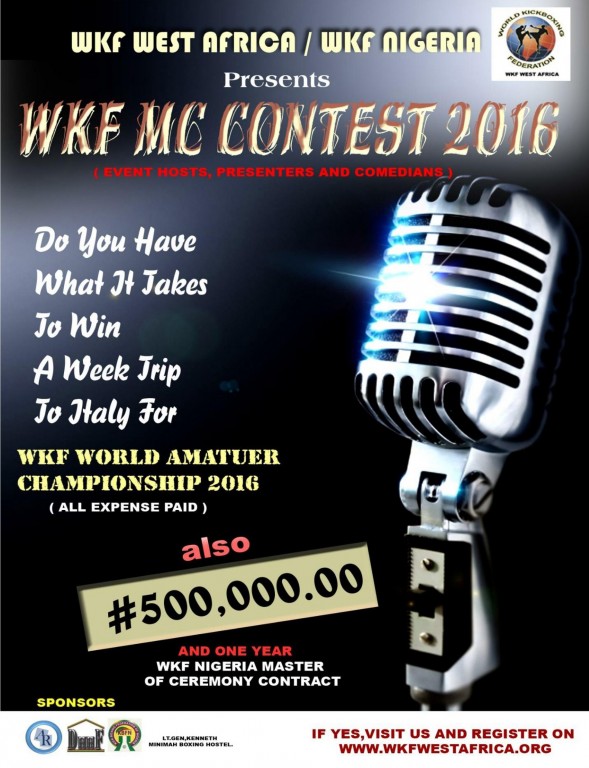 6. February 2016
Register your WKF referees as well

10 referees are welcome

WKF AUSTRIA president Mr. Gerald DITTRICH announce proudly the next "International Austrian Open" in Vienna.
DEADLINE FOR REGISTRATION May 20th
This event is like in the last 25 Years open for all teams, clubs and federations. Octagon pro Gym welcomes you !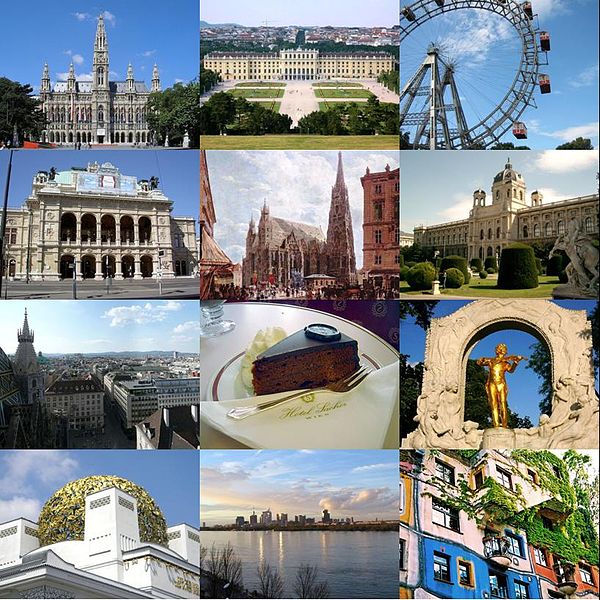 Your team can compete in 10 form divisions, semi contact, light contact and K-1 rules.
Cash price for Semi contact Grand Champion.
All rules for amateur events here to down load.
WKF licensed international referees are very welcome. Photos here
The City Vienna welcomes you, the invitation in English language is here, in Deutscher Sprache hier.
5. February 2016
"HEATHCOTE HOTEL" PROUDLY PRESENTS: WKF PRO WORLD MUAYTHAI, K1 KICKBOXING & MMA TITLE FIGHTS COME TO SYDNEY AUSTRALIA – 29th APRIL, 2016.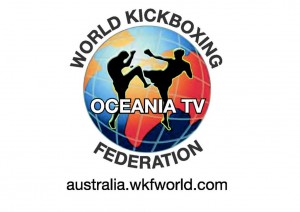 WKF Australia (Mr Robert Wilesmith) and WKF South Korea (Mr Hwang Hwan Ki) are proud to present the "BIGGEST PRO WKF WORLD TITLE SHOW" in the history of the Sport, and the venue is "CLUB PUNCHBOWL" – SYDNEY, NSW AUSTRALIA. Fighters from ALL around the World are coming to fight for the most "Prestigious" Professional Titles – WKF PRO WORLD TITLES! WKF Australia Oceania Head Office are "Officiating" this great show, featuring all the very best Australian fighters as they take on the "Very Best" fighters in the World. Countries include: AUSTRALIA, INDONESIA, PAPUA NEW GUINEA, SOUTH KOREA, KENYA, ZIMBABWE, INDIA, MOROCCO, GEORGIA. Some of the Pro WKF Oceania Champion fighters include:
WKF PRO INTERCONTINENTAL 77kg WELTERWEIGHT MMA TITLE:

TSOTNE SHENGELIA (Georgia)  is ready to take to take on "Very" experienced TINEYI MARIDZO (Zimbabwe) for the "Vacant" WKF Pro Intercontinental MMA Welterweight 77kg Title. This will be a very exciting fight, both "Very Strong" fighters, both experienced in "Stand Up" & "Ground Fighting/Grappling". Seeing these fighters fight in real life, they are carrying both their country's "Pride" to do their very best, with the winner to take on "Current" WKF World MMA Welterweight Champ JON LEVEN (Australia). LEVEN is coming back from "Major" knee surgery back in late 2015, and won't be ready to fight again until he gets a clearance from his Surgeon (Which will probably be late July/August 2016. We all wish Jon Leven all the best in his recovery.
WKF PRO OCEANIA FLYWEIGHT K1 KICKBOXING "Vacant" TITLE (51.8kg)
EKA "The Wrecker" AREKA (Team Thunderlegs, Indonesia) Vs MOHAMED WARE (Kenya).  Eka Areka is currently WKF Ranked #2 in the World, & is looking forward to the BIG occasion. But Kenya's WARE has other ideas. Training under the watchful eye of WKF Kenya's President Mr Alphonse Wanzalleh, he will be a tough competitor. "Team Thunderlegs" Eka Areka is the "Pride" of ALL Indonesia, super fit athletic build and the ability to strike fast and hard before you blink your eyes. He is "THE WRECKER" of the FLYWEIGHTS!
WKF PRO WORLD K1 KICKBOXING 66.8kg WELTERWEIGHT "Vacant" TITLE
RICKSON "Powerhouse" YAMO (Port Moresby, PNG) Vs MUHKLIS (Semarang, Indonesia). He is fighting for his 2nd WKF Pro World K1 Title, representing the "Pride" of Papua New Guinea. Rickson Yamo is without doubt the "BEST" fighter to ever fight for PNG. He is the "Current" WKF Light Welterweight K1 Kickboxing Champion, and he is after WKF World K1 Kickboxing Title No.2. Yes, there are allot of great fighters there, but then there's another Class in Rickson Yamo from Port Moresby, Papua New Guinea. But then there is MUKHLIS (Indonesia). He is the current Indonesian Muaythai Champion, lots of experience, power, very fit and has a "Whole" country behind him, representing Lindu Aji Gym, Semarang Indonesia. This will be one exciting fight (RAW Vs COURAGE)!
WKF PRO OCEANIA K1 KICKBOXING LIGHT MIDDLEWEIGHT 72.3kg TITLE
Also fighting on the show from Port Moresby PNG is Light Middleweight sensation BOSTANY ELO (PNG), taking on DARREN "The Freak" FINN (Team Thunderlegs, Inverell Australia) for the WKF Oceania K1 Kickboxing Light Middleweight Title.
ELO, is a very proud Papua New Guinea man, much respected as a fighter, as a community leader in his city of Port Moresby & does allot of work for Violence against Women and Children. He is fighting for PNG Pride. As for Australian fighter Darren Finn, he has been around the Australian Boxing circles for "Many" years", also fighting Muaythai, K1, Full-Contact Kickboxing. He represents the Indigineous Koori Aboriginal community here in NSW, and he wants to let the World know that he fights for his culture, his people.
 WKF PRO WORLD MMA HEAVYWEIGHT 93kg+ "Vacant" TITLE
JAOUAD EL HAIMER (Team Thunderlegs, Morocco) is without a doubt the "Beast of the Middle East", and is desperate for the WKF World MMA Heavyweight Title.  His talent is exceptional, and after winning success overseas, he is aiming for BIG THINGS in 2016, going after the Heavyweight MMA Division World Title. He is "HUGE", fast, technical, powerful – all the atributes of a "World Class Fighter". Thus, the reason why he joined Team Thunderlegs International Team and is ready to take it to the "Next Level"!
On this show in April 2016, EL HAIMER will take on LEE SUNG-WOOK (Team South Korea). With a HUGE population in all Korea, they will "ALL" be supporting their favorite son SUNG-WOOK. He has an impressive record and "Many" Titles both National and International in many styles of Martial Arts in Korea. This will be both fighters "Toughest" fight to date, and its "Winner Takes ALL"!
WKF PRO WORLD SUPER LIGHTWEIGHT 62.3kg "Low-Kick" Vacant TITLE
SAMIR SAKHI (Team Thunderlegs, Morocco) is fighting for his 2nd WKF World Super Lightweight Title, when he takes on Indonesian Champion SURYANTO (Lindu Aji Gym, Semarang Indonesia). Both these fighters can fight, and they come to Sydney Australia with plenty of fight and stamina to be the WKF "Ultimate" Super Lightweight Kickboxing Champion. This is great to see WKF Indonesia fighters fighting on the Global scene, and what better way than to see them fight on the BIG STAGE here in Sydney Australia!
WKF PRO WORLD SUPER CRUISERWEIGHT MUAYTHAI TITLE (91.8kg).
TOFAN PANINI (Tehran, Iran) is the most popular fighter in ALL Iran. This Mammoth fighter is one of the most "Feared" Muaythai Kickboxing fighters in the Super Cruiserweight Division World Wide. With an impressive record of over 50 professional fights, he wants to stamp his authority on the world stage in the Western World. Right now, we are in negotiations with South Korea to match this great Iranian fighter. He has a HUGE following in Iran, and under the guidence of WKF Asia Continent and Iran President Mr Amir Mosadegh, he will not disappoint the Sydney crowd on fight night. It is a very "HUGE" honor to have Mr Mosadegh attend our Australia show.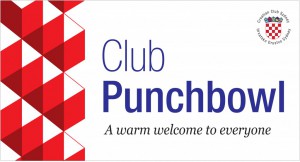 DATE: FRIDAY 29th APRIL, 2016                                          
TIME: Doors Open 5.00PM. Show Starts 6.00PM.
VENUE: CLUB PUNCHBOWL (Cnr Canterbury & Punchbowl Roads, Punchbowl NSW Australia).
WKF A1 SUPERVISOR: Robert Wilesmith (WKF Australia Oceania President).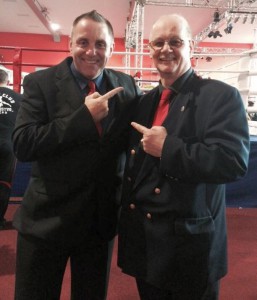 WKF HEAD REFEREE: Mr Fritz Exenberger (Vienna, Austria).
WKF OFFICIALS: Appointed by the NSW Sports Combat Federation. ALL WKF Officials for this show "Must" be registered with the NSW Sports Combat Federation (NSW Government Regulations Laws).
MASTER OF CEREMONIES: Mr James White
TICKETS GO ON SALE: 15th February, 2016.
Pre-Sales for Corporate V.I.P. Tables (Incl. dinner and drinks): Call 0451 140 770.
OFFICIAL HOTEL IN SYDNEY: TRAVELODGE BANKSTOWN SPORTS CLUB, BANKSTOWN NSW AUSTRALIA. Bookings: +61 2 9793-0000.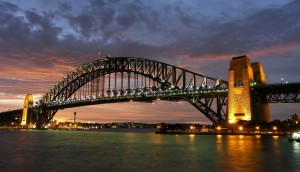 ALL ENQUIRIES PHONE: +61 45 114 0770             
EMAIL: wkfaustralia@hotmail.com
PAY PER VIEW Link/Website to order:
www.dreamchannel.tv/fights

4. February 2016
The first huge event in 2016 was in MTN ARENA in Kampala with 3 title fights, 2 ladies fight, one pro k-1 fight and 1 junior fight .
This was a great event for starting the year.  Good atmosphere and strong fights. Always was a real war in the ring.
We have three new official WKF Champions:
Abu KIKENWA, Uganda Champion
Mubiro SHAKEY, Uganda Champion
Titus TUGUME, International Champion
Here are the quick results, congratulation to all new Champions:
1. Mubiru Shakey vs. Odoch Ronald -66,8 kg, K-1, winner by points: Mubiru SHAKEY, Ugandan Champion
2. Abu Kikenwa vs Dan Okiror -88,2 kg, K-1
winner by points: Abu KIKENWA , Ugandan Champion
3. Titus Tugume vs. Malik Kalisa -84,6 kg, Full contact
winner by points: Titus TUGUME, International Champion
4. lady fight:
Patricia Apolot vs. Sarah Njoki Njuguna (Kenya), -60 kg, low kick, winner by ko in the 1st round 20 second: Patricia APOLOT
5. Lady fight:
Jackie Nasimbwa vs. Brenda Masendi, -60 kg, low-kick, winner by points: Jackie NASIMBWA
6. Oola Ambrose vs. Ddamulira 'ring doctor' Richard, -60 kg, K-1 wnner by points: Oola AMBROSE
3. February 2016
Our WKF EUROPE president Mr. Hrvoje KISASONDI start our new office with high speed.
His new E-mail: wkfeuropa@gmail.com
Europe is still the strongest WKF continent, with most activities and so many high class events. First contender is WKF AFRICA continental federation.
With immediate effect all WKF sanctioned title fights in Europe must be requested and confirmed from our Europe office only.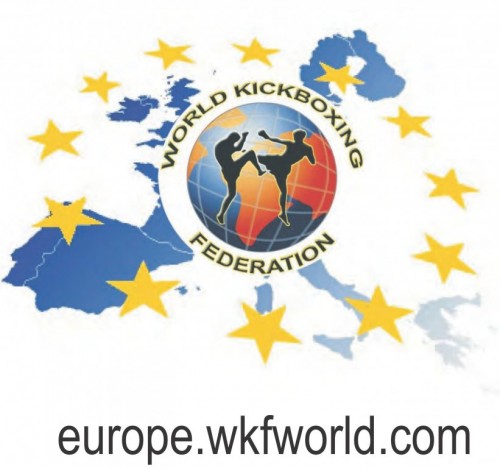 Mr. Kisasondi is in duty as match maker for events in Europe, to coordinate all titles, champions and contenders.
All requests from promoters for WKF sanction must be done with the correct "title application" form only. To avoid any misunderstandings.
"Title fight minimum requirements" form is here!
Our match maker will help in all further requests.
3. February 2016
WKF BRAZIL is preparing for the national formation course WKF black belt 2016.
It will be held in May in the central region of the country, and must meet new graduates from various parts of the country.
The content of the course is being developed by the National Council of masters and be supervised by the most famous kickboxer Brazil, the master Wagner Stivi.
This is important work for the development and growth of the Brazilian kickboxing, and WKF Brazil.
31. January 2016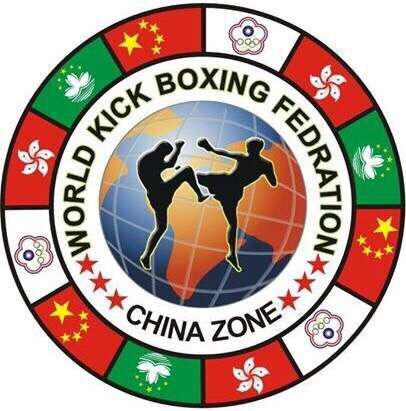 The World Kickboxing Federation is the leading organisation World Wide in the promotion of amateur and professional kickboxing in all styles, Muay Thai and MMA -mixed martial arts hosting professional fighting events.
Our modern and interactive approach to this sport highlights our commitment to keeping you updated with the latest events taking place worldwide.
The WKF SANDA & WUSHU DIVISION was formed in February 2015, the WKF stresses its strong belief in offering equal opportunities to sufficiently skilled athletes who have practised  Kickboxing, enabling them to display their talents in the National and International Amateur and Professional arenas.
Also to ensure the credibility of their "world championship" titles and gives these world class athletes an international platform on which to perform.
Read more here …