World Kickboxing Federation archive
Date: April 2011
30. April 2011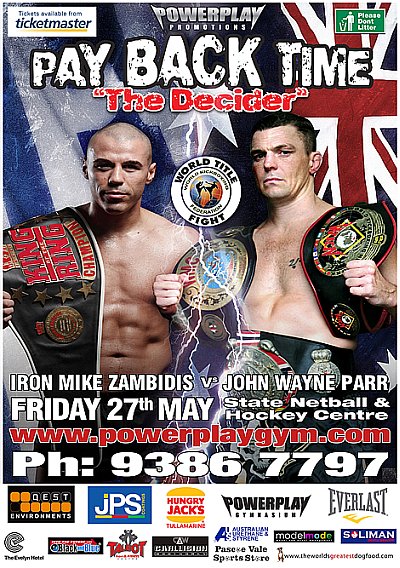 Melbourne, Australia;  our Australian continental presidnet Mr. Georges PERGIALIS made the deal perfect.
Two legends fight for the World title. Greek heroe Mike ZAMBIDIS vs. the Australian legend john Wayne PARR in Melbourne on May 27th.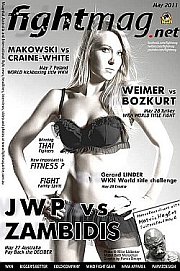 Australians leading martial arts magazine fightmag.net made a coverstory about, just have a look and enjoy.
28. April 2011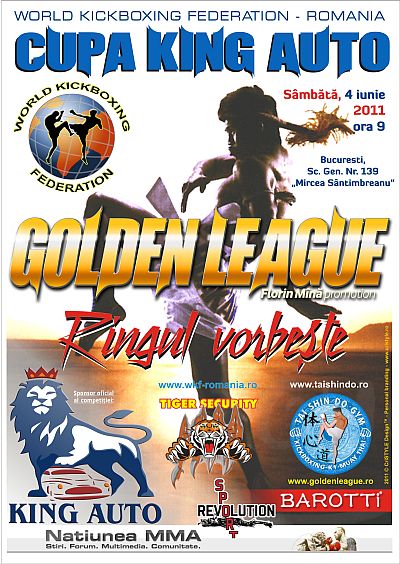 Our new president in Romania Mr. Florin MINA announce his next events on June 4th and again July 1st in Bucharest.
In July he promote also two title fights with Romanian top fighter, Cristian "the fastest" MILEA -69,50 Kg and female "Black Panther" Adriana TATU – 56,40 Kg.
26. April 2011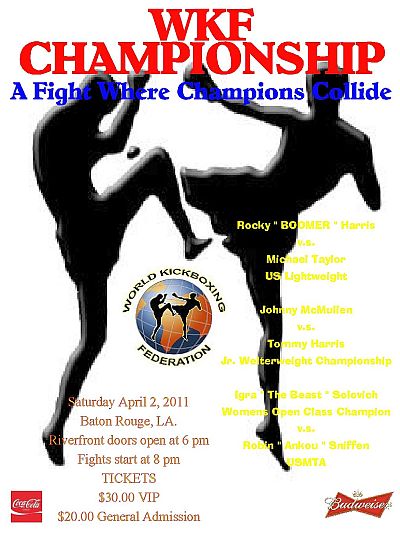 Louisiana´s capital Baton Rouge was host of the last WKF event in USA. Among other top fights was the main fight for the female USA open Champion title, sanctioned by the World Kickboxing Federation.
Igra SOLOVICH from Kaliningrad in Russia challenged US Champion Robin SNIFFEN from Oklahoma. After a hard battle Robin …
25. April 2011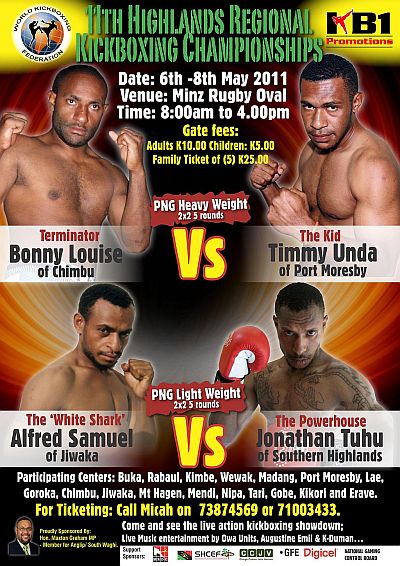 Papua New Guinea; our South Pacific president Mr. Stanley NANDEX organise the "11th higlands regional Kickboxing Championships" in the famous Minz Rugby Oval. Two main fights are on the fight card …
25. April 2011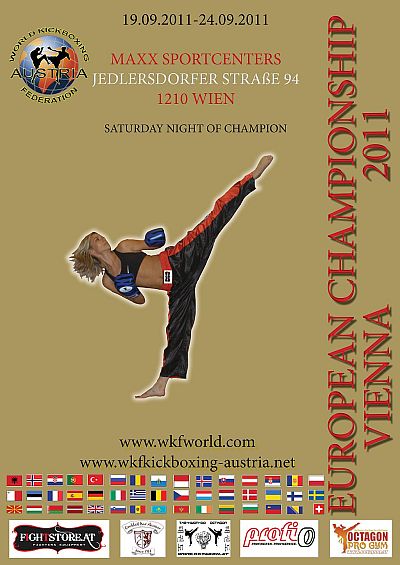 Vienna in Austria in September 19th – 24th is the host of the upcoming European Championships in Kickboxing in all disciplines, for kids, Juniors, adults, Veterans and masters.
Until today 24th countries confirmed their participation …
25. April 2011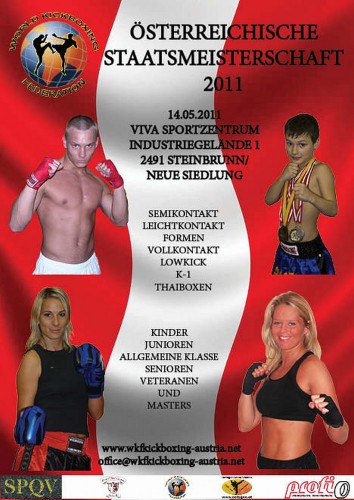 Steinbrunn, Austria;  our WKF Austria president Mr. Josef HALZL announce the Austrian national Championships. This is the last chance for the Austrian team to qualify for the upcoming European Champions ships in September 19th -24th.
Because Austria is the host , we expect a huge team from the Austrians, many clubs and fighters showed interest in this event.
25. April 2011
Schwäbisch Gmünd, Germany;  WKF Germany announce proudly on May 21st is the annual " International German Open" in Kickboxing, invitation with all details here.
More information and registration directly by mail in the office of WKF GERMANY.
25. April 2011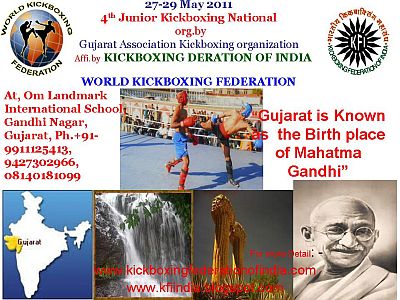 Gujarat, India; our respected India president Mr. Yogesh Kumar Shad announce the next event in India, 4th junior national Kickboxing Championships. This is another event for the youth male and female martial artists in India. Mr. Yogesh and his team is very strong to develop a strong team for the future, because our youth are the future.
23. April 2011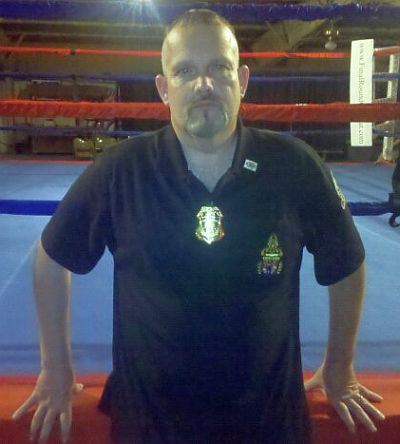 Oklahoma City, USA; with immediate effect we have a new World Kickboxing Federation USA president. Mr. "Ajarn" Ric SNIFFEN from Oklahoma City is our respected president.
Mr. Sniffen is well known in Muay Thai in USA, Executive vice president in United States Muay Thai Association www.usmta.com and National Chief Executive Officer for the League of Nations and Native American League.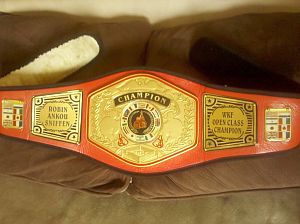 He is a former World Champion Open Class Division in Muay Chaat Cherk / Mixed Martial Arts has fought and won the ICSA MMA World Championship in 2008 his last fight. He is now retired with a professional record of 124 wins 47 losses and 63 knock-outs 2 draws.
Furthermore he is also the World Panmahia Association ( Pankration ) US President and World Vice President, WMAA World Vice President and US President, International Moo Chon Ji Kwan Federation President and finally the International Nippon Ryukyu Kaishu Ki Kempo Federation World President.
He hold the rank of Arjarn ( Master – Teacher ) in Thai and Cambodian Arts, KukSaNim ( Korean Master Instructor ) in Korean Arts, Kyoshi in Japanese Arts and Rokudan 6th degree Black Belt and SiGung in Chinese Arts.
Ric is also the owner of SakSitHaawk Pontawee Camp International with gyms in 8 countries and 7 US States with over 2000 students. Teaching traditional arts like Muay Thai, Muay Chaat Cherk, Muay Pram and Pradal Serey as well as other arts.
For any further interest in WKF USA send just a mail to Mr. Sniffen
18. April 2011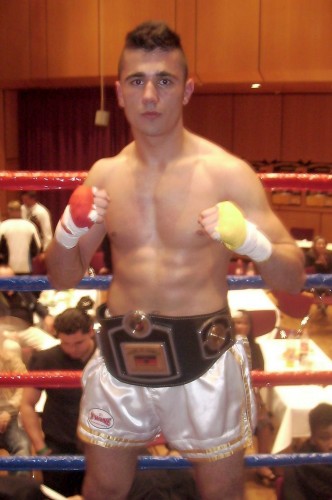 Promoter Tuncay GÜL promoted in Ahlen German Champion title in K-1 rules – 66,80 Kg. Talha Yalcin challenged …