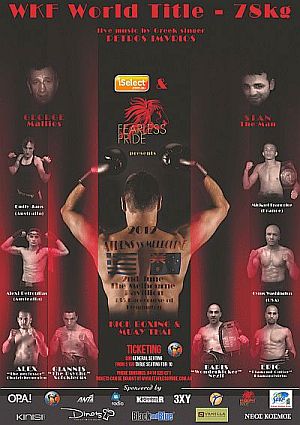 Fearless pride promotions brings a World class Kickboxing event to Melbourne, June 2nd, ATHENS VS MELBOURNE AT THE MELBOURNE PAVILION, 135- 137 Racecourse Road Flemington.
Fearless Pride Promotions will have a spectacular extravaganza combining international sports and music entertainment professionals. Comprising of seven world class Kickboxing and Muay Thai fights of the highest standard and special guest singer Petros Imvrios
Proudly sponsored by i-Select this event showcases top sporting athletes from around the globe in an All Stars kickboxing battle. The magnificent Melbourne Pavilion http://www.marekai.com/venues/the-melbourne-pavilion will come alive on June 2nd 2012. Doors will open at 18.30 pm with the show time starting at 19.00 pm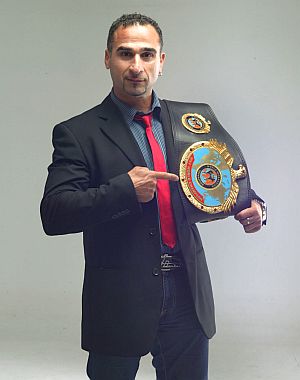 The most famous Kickboxer on the planet for more than two decades, Stan "The Man" Longinidis will be leading the seven top fighters from Melbourne and around the world, against the legendary Greek trainer George Mallios . They are both keen to take home the winning trophy of best team.
The main event is for the globally recognised World Kickboxing Federation title in the under 78 kilo mgawanyiko. This epic fight will be between the four times World champion from Greece Giannis "The Psycho" Sofokleous and the finest combat athlete from Australia Eric "The Diamond Cutter" Diamandstein.
Soma zaidi juu ya WKF AUSTRALIA