World Kickboxing Federation archive
Date: May 2017
25. May 2017
At the last World Congress in Andria in 2016, a change of rule was made at the request of several state presidents.
The IRC has adopted the rule change and now it is official after the European Championship in Greece.

The rule changes are:
In the WKF Amateur Thai Boxing is fought with elbows and knees also to the head (!). Therefore elbow protectors are also obligatory from now on. This means that also "spinning elbows" to head with eye contact are correct. Like jumped knees also to the head! The fighting time remains unchanged 3 × 2 minutes.
The application for changes to the MMA weight classes has not been granted, it remains as before.
The discipline CADETS in has been cancelled.
You can download the current competition rules as always free of charge from HERE !

Next WKF European Championships are in Baia Mare, promoter WKF ROMANIA and Mr. Florin MINA,
date 21st to 26th October 2019 !
13. May 2017
12. May 2017
Another Arena de Matosinhos Promotion and another big success in Portugal
WKF Portugal organize in Matosinhos city a amazing Kickboxing show with more a 1500 people who stay in sporthall to see the main event between Atílio Coelho ( Portugal) and Diego Quintana (Colombia) for the WKF pro am world title.
The fight start with hard work between two fighters with Diego Quintana put a strong box work but the Portuguese fighter as the lesson well done make and after the first seconds start with a strong lowkicks destroying the Colombian.
The first round finish with Quintana in floor but win a count protection…
The second round with a amazing work Atílio Coelho put 2 more times Diego in floor with a big injury in his leg but like a true fighters all times come to war…
In 3st time Quintana down and stay in floor, for a big win from  Atílio Coelho , New  WKF world champion !
The show have in a total 12 fights, 10 in A and B class, with 2 more national titles and 2 women fights.
12. May 2017
WKF Latin America continental federation president Mr. Alfredo SUAREZ confirm our long time member Mr. Carlos Alberto DURAN PAREDES as real, only one and official WKF ECUADOR president.
Any "fake licenses" of the Australian criminal are fake and not valid ! And we will take any legal action against anybody using our name and logo !
WKF head office has already started legal action against this poor guy.
Don´t trust Cheaters and frauds !
If you want to become promoter or any cooperation with WKF contact Mr. Paredes by mail.
12. May 2017
With immediate effect WKF head office confirm our new member in WKF Latin America and Caribbean continental federation.
Our LAC president Mr. Alfredo SUAREZ confirm Mr. Claudio HIDALGO as new president with his federation WKF BOLIVIA.
For sure next great South American team for the upcoming  World Championships in Buenos Aires in November 2018.
First event in Bolivia with WKF is scheduled on May 18th !
Below the original statement of Mr. Hidalgo:
MUY CONTENTO DESPUÉS DE 20 AÑOS DE TRABAJAR POR LAS ARTES MARCIALES E LOGRADO NUEVAMENTE UNA DE MIS METAS HEMOS OBTENIDO LA REPRESENTACIÓN PARA BOLIVIA DE LA FEDERACIÓN MUNDIAL DE KICKBOXING WKF AGRADECER AL MAESTRO W-Alfredo Suárez PRESIDENTE PARA LATINOAMÉRICA Y EL CARIBE DE WKF POR CONFIAR EN MI TRABAJO AL MAESTRO Alejandro Concha PRESIDENTE DE WKF CHILE POR LA CONFIANZA Y A TODOS MIS PROFESORES POR EL TRABAJO CONSTANTE MUCHAS GRACIAS .-
ACADEMIAS AFILIADAS A NIVEL NACIONAL WKF BOLIVIA MUNDIAL :
Pablo Lemon ACADEMIA CUERVOS EL TORNO
Ludim Robles ACADEMIA BODYFIT CAMIRI
Claudio Mac-Kay Hidalgo ACADEMIA YIN YANG SCZ
Vinicius Caruso ACADEMIA CAPOEIRAGEM SCZ
Guillermo Leon ACADEMIA PANTHER BLACK SCZ
Edy Flores Guzman ACADEMIA GORILAS SCZ
Bill Guardia ACADEMIA ESCORPION SCZ
Roly Soliz ACADEMIA TEAM SOLIZ SCZ
Erick Urgel ACADEMIA SAMURAY SCZ
Fernando Delgadillo ACADEMIA OLIMPO SCZ
Josue Joel Camacho Fernandez ACADEMIA BORN THO FIGTH SCZ
Edil Ribera De Muay Thay ACADEMIA RIVERA TEAM SCZ
Paulina Tolavi Tolavi ACADEMIA ATENEA SCZ
ERWIN DORADO ACADEMIA TEAM DORADO SCZ
INVITAMOS A LAS ACADEMIAS DE BOLIVIA QUE SE QUIERAN AFILIAR ESTAN LAS PUERTAS ABIERTAS LOS ESPERAMOS
PRONTO NOTICIAS SOBRE LA LIGA WKF BOLIVIA VAMOS QUE VAMOS Ruben Alberto Braun
Claudio Mac-Kay Hidalgo
PRESIDENTE WKF
BOLIVIA
10. May 2017
 

WKF World Championships 2018

Buenos Aires welcomes the World !!!
10. May 2017
WKF AMATEUR
division World president Mr. Pascal DELFOSSE announce next international amateur event.
From 1st to 4th November 2017 in beautiful location of Marina D'or  WKF organize with WKF SPAIN president Juan PINILLA the "Mediterranean championships of kick boxing"
Fighters could compete in all ring sport disciplines like  full contact, Low kick, K-1, and Thai Boxing.
All Mediterranean countries are invited: Cyprus, Egypt, Tunisia, Algeria, Morocco, Turkey, Italy, Spain, Portugal, Slovenia, Croatia, Greece, Syria, Lebanon and Malta, Monte Negro and Albania !
This competition could take place every other year, alternating with the Francophone championships in May for the following years.
For any request contact Mr. Delfosse by mail.
8. May 2017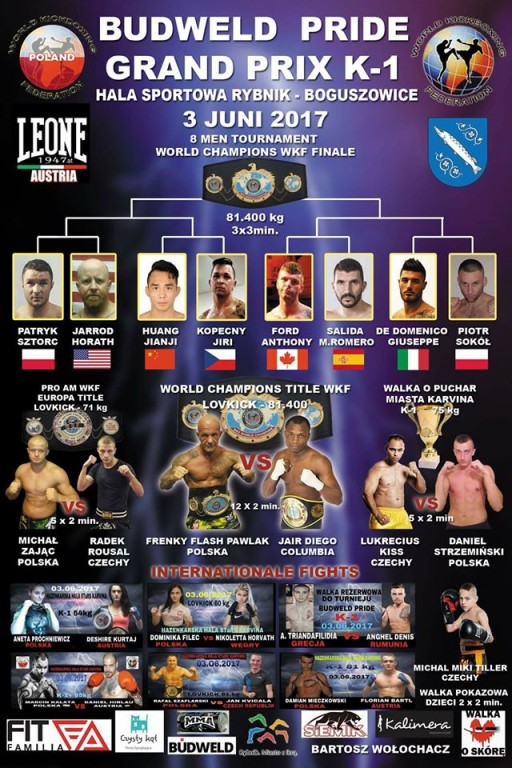 Our WKF head office confirm the next WORLD GRAND PRIX, sponsored by BUDWELD company in Poland.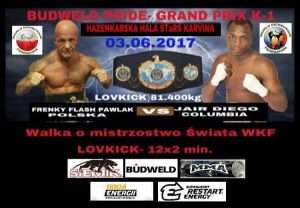 This show is an international cooperation of WKF CZECH REPUBLIC, WKF AUSTRIA,  WKF USA and WKF POLAND
On the last World congress in Italy WKF head office present the new league:   "WKF WORLD GRAND PRIX" !  This is for all our AAA WKF promoter only.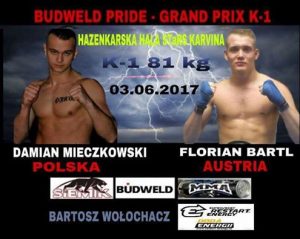 What are the conditions to promote next WGP and to become AAA promoter level ?
International Champions from at least 3 continents!
Two air tickets for foreign fighter and coach, food and good Hotel, paid by the organizing team, nice hospitality. International WKF licensed referee and supervisor, appointed by our head office. TV contract for the event and at least one professional WKF World title !
WKF sanction fee for the World Grand Prix is part of negotiation.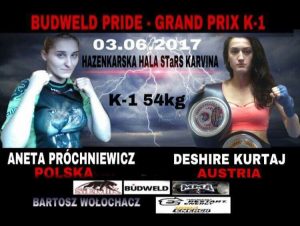 For our next WKF BUDWELT PRIDE World Grand Prix on June 3rd in Poland we have Champions from 10 countries and 4 continents on the fight card. China, Austria, USA, Canada, Colombia, Spain, Hungary, Romania, Greece, Poland and more in negotiations …
Best K-1 eight man tournament – 179 lbs / 81,4 Kg , plus three WKF sanctioned title fights, plus two international Ladies fights, plus excellent show program, pretty ring girls and much more. 
More details coming soon, stay tuned …
7. May 2017
WKF BRAZIL hero Stivi WAGNER report:
The work in Brazil is getting stronger.
Last weekend, the directors meeting was held to define the activities of 2017. In addition to the meeting, the Black Belts graduate ceremony was held.
In the next 2 months will be held state and selective championships for the Brazilian championship.
Brazil being a country with continental dimensions, it is very important the work of the regional representatives for the growth and consolidation of the Kickboxng WKF system, says "Stivi"
The next official national meeting with the representatives is already scheduled for June 15. In the city of Gurupi-To, northern region of Brazil.