World Kickboxing Federation archive
Date: June 2017
25. June 2017
On June 15th to 17th WKF Portugal organized the Mediterranean tournament 2017 in a beautiful São João da Madeira City.
Three international teams (Italy fail again at last moment in 2017) fight for a individual and team first place.
All against all  people can see a amazing fights , to the three country's prepare a next WKF World championship in Argentina. Many fighters in first time international opportunity but with hungry to show to national coach is quality and asking an opportunity …
Portugal like usual, show a strong team with some new fighters but with a lots of quality and win by team …
A great meeting, with amazing fair play and many inter-action moments in local party days…
Like we say big fights in ring but bigger friends outsider it !!!!!!  Full results here to down load.
Next year we meet all together in France for another great WKF moment
25. June 2017
On June 17th WKF sanctioned last event in Kanton Tessin, Italian part of Switzerland.
The event was in amazing Casino Campione d'Italia of Lugano.
The weigh-in was done a day before and all Champions made their agreed weight.
WKF official supervisor for this event was Mr. Francesco TURCO.
Promoter of this high class event was Mr. Francesco LAQUALE and team Bellicum Kickboxing Switzerland.
WKF sanctioned two world titles plus one European title. Many photos here in the gallery.
One extra Intercontinental title was sanctioned by 
www.superkombat.com, directed by Mr. Eduard IRIMIA
19. June 2017
WKF UK – UNITED KINGDOM, has a since 6 month new leadership.
After a very positive and successfully meeting in WKF head office in Vienna, Austria, the deal is done.
Mr. Andy HOPWOOD has all our trust and is high respected in our World of martial arts.

His first task is the reorganization in UK, appointment of new officials, negotiate with organizers for amateur and professional events. His most important task is also to form an UK team for the World Cup in November in Buenos Aires.

All WKF concerns in UK will be answered immediately by our new office,  MAIL !

Andy Hopwood is one of the UK's leading combat and fitness experts, with an established list of celebrity clients – from premier league footballers and motor racing champions to famous soap actors.
Andy has been involved in martial arts and fitness for 40 years and has twice been inducted into the prestigious 'Combat Hall of Fame'.
In 1995 Andy founded the highly acclaimed martial arts system, known as the British Free Fighting Academy.
17. June 2017
MEDITERRANEAN WKF TITLE IN GREECE 
On 18 June and in Andravida city a spectacular fight GREECE VS TURKEY is booked for the Mediterranean title of WKF .
Heavyweight Greek WKF champion Dimitris Maliaris will give his third international fight for 2017 against Turkish experience fighter Gokhan Gulucu of Erkan Varol team who have 48 wins 13 loses and 20 KO and is a well known actor in Istanbul.
The main event Maliaris VS Gulucu is a heavyweight fight in -96,4 kg division of the summer event of the Greek promoters Dimitris Katsiaras and George Theodoropoulos and supervisor is our WKF GREEK president
15. June 2017
WKF ECUADOR president Mr. Carlos Duran PAREDES announce next event in Ecuador.
Full contact Championships on June 17th in Guayas.
Full report and more is coming soon, stay tuned
CAMPEONATO PROVINCIAL DE FULL CONTACT
CON EL AVAL DEL COMITE DEPORTIVO PROVINCIAL DE KICK BOXING DEL GUAYAS.
FEDERACION DEPORTIVA DEL GUAYAS
FEDERACION MUNDIAL DE KICK BOXING – WKF
WKF – ECUADOR
13. June 2017
WKF GREECE president Georges PERGIALIS announce next event:
A new summer event is coming up in ANDIKIRA city of Viotia Greece on 1st July, with two WKF National Titles and Belts on the main card.
Athenian champion Giannis Tzakakos is fighting against upcoming young fighter Kostas Delis from Lamia city and local fighter Kostas Karvounis is fighting against Babis Hilai from Lamia city.
Promoter is local BIAKIS TEAM with already experience of 18 event in Taekwondo & Tang Soo Do and make his debut in Kick Boxing events under the supervision of WKF CEO Mr George Pergialis.
13. June 2017
The excellent work developed by the master Ednaldo Lustosa, transformed the state of Tocantins, in the northern region of Brazil, into one of the greatest powers of kickboxing and martial arts in Brazil.
For Master Ednaldo, the involvement and participation of the entire Lustosa family has been a very important factor in this whole process. Tocantins holds for the first time a national championship of kickboxing and martial arts.
The event is organized by the National Confederation of Kickboxing and Martial Arts –CONKICK in partnership with the Tocantinense Federation, and one of the great expectations will be the participation of the 6 children of the master Ednaldo, with highlight to the Thaynara LUSTOSA that will dispute in September the world title in Austria.
13. June 2017
WKF HEAD OFFICE confirm the appointment of WKF ASIA continental president Mr. Amir MOSADEGH to our WKF MMA Division World president.
This is an amazing step in the WKF ASIAN continental federation.
First time in history a manager from Asia get this high position in a World wide sanctioning body.
Mr. Amir MOSADEGH from WKF IRAN was former World Champion in K-1 rules and his younger brother Mostafa is still our current Champion and fighting for WKF titles.
Our new MMA president bring in all the Asian countries in, not just in MMA , but in Kickboxing and Sanda as well. For PRO-AM as well as for real tough professional fighters.
He was promoter for the great WKF ASIAN championships on Kish Island in Iran, with 2.700 (!) fighters. So many high class VIP guests, from Iran politics, sport and martial arts. Many our WKF presidents was there as well, like e.g. Mr. Dawood HASHIMI from WKF AFGHANISTAN, and others.
For all MMA business in WKF contact Mr. Mosadegh by mail, he will answer ASAP.
12. June 2017
WKF EUROPA continental federation president Mr. Cesar MOREIRA announce next international amateur event.
From June 16th to 18th in beautiful location of "Sao Joao da Madeira" we have international WKF  tournament with 4 countries of Spain, France and of course Portugal. If Morocco team can open Visa the tournament is complete.
This is a cooperation with  WKF SPAIN president Juan PINILLA.
Fighters could compete in all ring sport disciplines like  full contact, Low kick, K-1, and Thai Boxing.
For any request contact Mr. Moreira by mail.
11. June 2017
WKF GERMANY president Roman LOGISCH confirm last results from high class event in Leverkusen, Germany.
Bartosz KOSCIELNIAK became new WKF Worldchampion.
He beat after a real tough battle in Superwelterweight – 69,5 Kg / 153 lbs in full Muay Thairules by points and got the amazing WKF World title belt directly from WKF GERMANY president Roman LOGISCH.
Next WKF sanctioned title fight was for the   PRO-AM title in K-1.
Amin NOUKRACHE representing famous Amrani Palace beat Timur BALOEV from Energy Gym, weight class  Lightmiddleweight -71Kg / 156 lbs. 
Next main fight was for the female PRO-AM WKF German title in k-1 rules, in  Lightwelterweight – 60 Kg / 132 lbs.
Layla HASSAN representing Team SCHAWE beat Chrisoula MIRTSOU by points and was happy for the WKF Champion belt.
Layla is a great talented young German girl fighter and perhaps a qualified challenger – 57 Kg / 125 lbs for WKF multiple World Champion Deshire KURTAJ in Vienna, or Taylor MCCLATCHIE, Canadian and Nr. 1 in North America.
WKF title fight Nr. 4 was since long time first PRO-AM Lightcontact (!) World title fight.
Germany superstar and WKF World Champion Guido ROEDEL challenged WKU World Champion
Ryad AL RATIL from Lebanon. Guido is very famous in Europe as tough and fair light contact champion, his 13 (!) various World Champion titles are the best proof.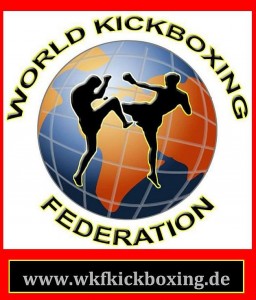 Scheduled in Lightweltergewicht – 63,5 Kg/138 lbs the fight was very technical as everybody expected and after 5 rounds the belt goes to Guido ROEDL.
Lebanese icon Abdulrahman ELRAYESS as team leader accepted fair the result.