World Kickboxing Federation archive
Tag: Yury Bessmertny
9. December 2010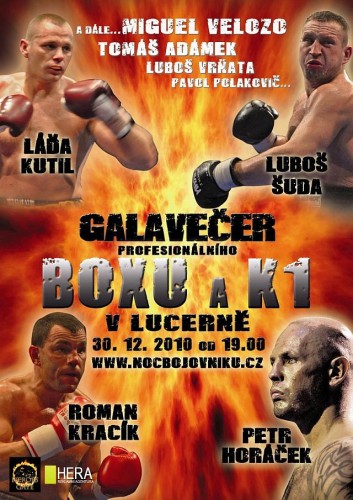 Prague, Czech Republic; last title fight in the Year 2010 shows again a Top high class event from Promoter " Heroe´s Gate" Mr. Pavol MUCHA and Mr. Ladislav KUTIL in Czech Rep. beautiful capitol Prague.
On December 30th are most famous fighters from Czech rep. vs. the World in the ring.
Beside international Boxing and MMA fights again an Intercontinental title fight is on the fight card. Supervisor for that title fight Mr. Klaus GUTMANN from Austria.
The home town fighter Anatoli HUNANYAN is born in Armenia and now fighting for Heroe´s gate promotion.
His opponent is a very tough and successfully fighter  Yury BESSMERTNY from Minsk in Balarus. His manager is Mr. Igor JUSHKO from Belgium, a famous name in our World, as promoter for international K-1 events as well as manager. This will be for sure a tough fight, results and photos coming soon after the event. And of course on WKF EUROPE
Short profile or Yuriy Bessmertny:
Mr. Yury Bessmertny
Belorus, Minsk
Date of birth: 27.8.1987
3xChampion of Belarus in kickboxing
2xChampion of Belarus in thaiboxing
S-1 Winnner 2006
World WMF Champion 2007
European WAKO Champion 2007,2008
World WAKO Champion 2009
In amateur ring he has around 70 fights
Number of pro fights: 23, Wins 16, losses 7, KO 9
Have you seen our continental web sites WKF EUROPE ,  WKF ASIA and WKF AFRICA ?
World kickboxing federation, Alischia CZAJA, Fritz EXENBERGER, Klaus Gutmann, WKF, Kick boxing, MMA, Thai Boxing, Muay Thai, Kickboxing, W.K.F., WKF World ranking list, World champion, European champion, Intercontinental Champion, WKF European championships, WKF head office, Extreme striking