World Kickboxing Federation archive
Tag: WKF South Africa
1. March 2011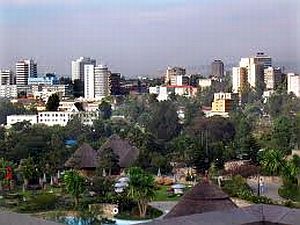 Our ETHIOPIA president Mr. Puro OKELO OBOB is the promoter of the AFRICA CUP 2011. The date is October 18th-23rd, full invitation with details  here

This tournament is for all African members and African countries who want to join us and participate in the perhaps most prestigious and biggest tournament on the African continent.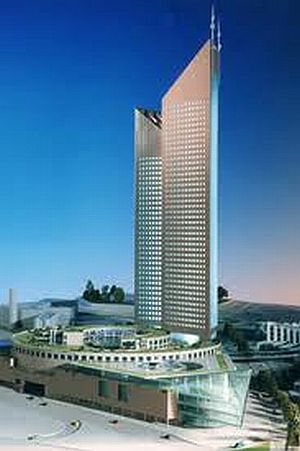 The best of the best African male and female fighters in Semi contact, light contact, forms and ring sports are invited  to participate , to create the all African Champion. For further details Hotel booking, registration and transfers contact Mr. Okelo Obob by mail
If you are interested to promote Africa cup 2013 or 2015 send mail to our head office with your proposal.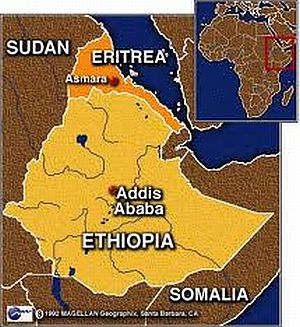 Have you seen all our continental web sites ???
ASIA , AFRICA,  EUROPE , SOUTH AMERICA , AUSTRALIA , USA

World kickboxing federation, Alischia CZAJA, Fritz EXENBERGER, Klaus Gutmann, WKF, Kick boxing, MMA, Thai Boxing, Muay Thai, Kickboxing, W.K.F., WKF World ranking list, World champion, European champion, Intercontinental Champion, WKF European championships, WKF head office, Extreme striking, WKF Africa
29. November 2010
King of the Cage "Platinum" –  International Conference Centre – Durban – South Africa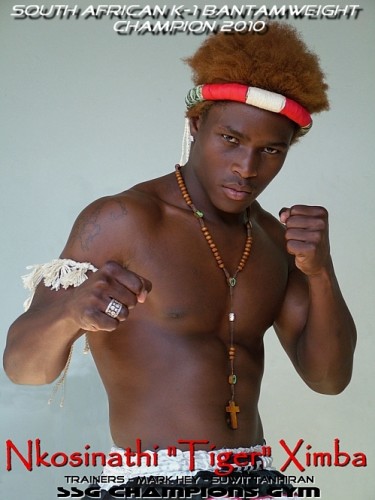 SSG  Champions  Gym's 20 year old K-1 and Muay Thai star Nkosinathi "Tiger" Ximba added the newly restructured  official  South African pro K-1 title to his long list of achievements  following a crushing KO victory over Randfontein based challenger Victor Tiedt in the under 60kg weight division.
Ximba already ranked at number 10 in the world by WKF (World Kickboxing Federation) started the fight as the number one ranked fighter in his weight division in all the three officially recognized professional stand up fighting disciplines in South Africa (K-1, Muay Thai and Extreme Striking) and took the fight to Tiedt from the first bell rocking  him with a huge early jab before landing a massive combination of uppercuts and hooks to leave his opponent grounded and out halfway through the opening round.
Tiedt who started confidently was clearly upset by Ximba's massive punching power and confident defense and kicks was thankfully discharged from the medical centre later the same evening.
Ximba's long time manager and trainer Mark Hey was visibly emotional as he hugged his fighter and talked later of his pride in a perfect preparation and perfect performance by his young charge.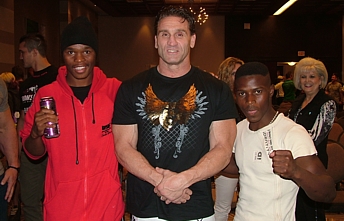 "It was a great honour to be on the same bill as MMA legend Ken Shamrock and to fight in such a fantastic international event as King of the Cage" said Hey as he thanked the amazing efforts of Mark and Joanne Bristow of Lion's Den South Africa and their team in bringing the whole partnership and event together.
Such was the response to Ximba's performance that two international opportunities had opened up before the end of the evening.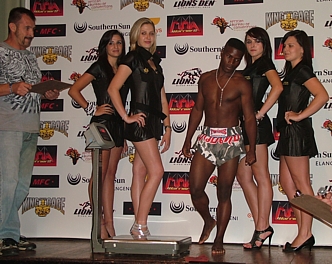 Manager Hey was calm about the response as he pointed out that Ximba was contracted to fight for WKF in Austria in May and that he was scheduled to fight for a WKF intercontinental title in South Africa mid 2011. He is only just 20 years old Hey said and that this was only his 10th pro fight and that he has plenty of time to make sure that every opportunity is properly prepared for and handled as time goes on.
On the support bill SSG Champions lead fighter and multiple champion Mthobisi "Mean Machine" Buthelezi fought full Muay Thai against legendary Muay Thai star Henry Madini.
Mthobisi had beaten Madini earlier in the year in the final of the K-1 eight man knockout championships on points but this time made no mistake as he destroyed his much more experienced opponent with combinations of elbows and hooks and finished off Madini with a knee to the chest towards the end of the opening round after a consummate display of skill, power and aggression that left the crowd awestruck.
The team moves onto the XFC international event at Standard Bank Arena in Johannesburg on December 11th and hope to keep the run of success going with the introduction of 20 year old Muay Thai and K-1 prodigy Oumpie "Lionheart" Sebeko to the pro extreme striking ranks as he meets Pretoria's Given Majuba in what should be a 5 round thriller.
Sidney "Machine Gun" Mokgolo will fight old rival Jacob Digoro and Mthobisi Buthelezi  is down to meet arch rival Amos Hlatswayo also in this extreme form of Muay Thai using MMA gloves and full Muay Thai rules with punches, kicks, elbows and knees providing nonstop action.
New K-1 champion Ximba is also pushing manager Hey for a fight on the predominantly MMA bill after his early success last week has left him extra energy and a thirst for more action before the Christmas break. Either way he will appear on January 30th either at the international Fightforce MMA event in Durban or the Warrior Promotions K-1 event in Gauteng.
World kickboxing federation, Alischia CZAJA,WKF, Kick boxing, MMA, Thai Boxing, Muay Thai, Kickboxing, W.K.F., WKF World ranking list, World champion, European champion, Intercontinental Champion, WKF USA, SPQV, Octagon pro Gym,
24. October 2010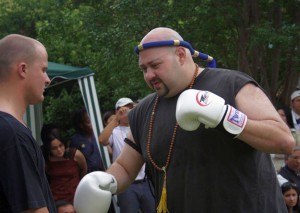 Pretoria, South Africa; Christof ENGELBRECHT  announce a new partner in the WKF RSA team, Kru Dimitri Bailanis.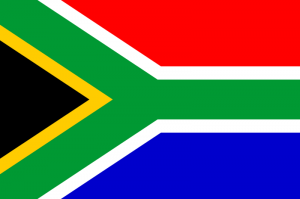 He comes from Pretoria, South Africa. He is a Muaythai Instructor and has been Super Heavyweight Muaythai World Champion in 2000. He will be the Muay Thai Representative in South Africa.
More than 125  (!) different countries and over 17.000 visitors have visited our site !!!

.
Became a friend from our WKF  World president Mrs. Alischia CZAJA on
21. October 2010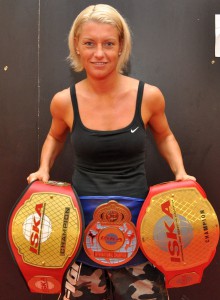 Wr. Neudorf, Austria;  again our WKF in Austria is busy. Promoter and WKF AUSTRIA Vice -president Mrs. Samantha A. SAVERSCHEL promote a high class event with TV ringside. Scheduled are 3 WKF title fights !!!
Heavy weight Mohamed AZAB is fighting for the local Austrian state title in K-1.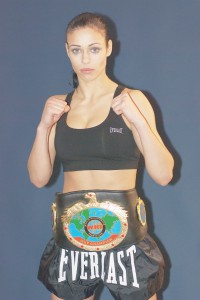 Local hero Gerald GRAF is fighting for Intercontinental title in Full contact , perhaps vs.  WKF South African challenger from Mr. Christopher ENGELBRECHT in Pretoria.
Another main fight is scheduled (not confirmed yet)  for the crown in Ladies weight class – 56,40 Kg in Thai Boxing. Austrian Nr. 1 and ISKA Champion Jasminka " Cive" DIZDAREVIC challenge Ukrain beauty  Olena OVCHINIKOVA for the WKF World title. This fight  is very interesting because now two real female champions fight in the ring. Many people wait for this fight since long time !!!
More informations about this event coming soon.
7. June 2010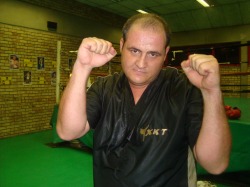 South Africa is famous not only for the football World cupt his Year but also for its famous and strong fighters, male and female.
World Kickboxing Federation proudly introduce Mr. Christoph ENGELBRECHT and his team as our new RSA President. Our friends in South Africa made already their official WKF web site and the first fighter are posted in the "always updated" World ranking.
Soon we will have first events, sanctioned by World Kickboxing Federation. If you want fighter for e.g.  WKF African professional titles, do not hesitate to contact our new team in south Africa.